AIM to Grow Conference held on the Agricultural Campus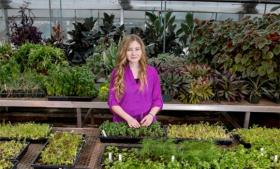 The Dalhousie University Faculty of Agriculture, the Government of the Netherlands and a group of Dutch agri-food companies, Greenhouse industries and organizations, are teaming up to explore the possibilities of supporting more local food production and related R&D using innovative Controlled Environment Agriculture in Atlantic Canada.
Controlled-environment agriculture (CEA) is a technology-based approach toward food production. The aim is to provide protection and maintain optimal growing conditions throughout the development of the crop. Production takes place within an enclosed growing structure such as a greenhouse or building.
The purpose of the AIM to Grow Initiative is to study the possibility to further develop innovative Controlled Environment Agriculture in Atlantic Canada, contributing to more year-round local food production, food quality and safety, food sovereignty and nutritional security.
"Dalhousie's Faculty of Agriculture aspires to become a hub of world-leading research and innovation that adds to the intellectual, social and economic capital of our communities," says Dr. David Gray, dean and campus principal. "This collaboration is a prime example of academia embracing innovative new technology and expanding opportunities for our faculty and students. We are proud to be part of it."
Continue reading at Dalhousie University.
Photo via Dalhousie University.