Cholera and Dengue Threaten Mexican Flood Victims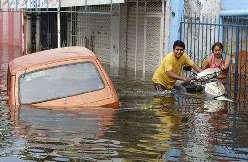 VILLAHERMOSA, Mexico - Tens of thousands of Mexicans forced into makeshift shelters by massive flooding are threatened by ailments ranging from colds to cholera, health officials said on Wednesday.
About 80,000 people from the flooded city of Villahermosa have taken refuge in crammed schools, churches and a multistory parking garage.
Colds, respiratory illnesses and foot fungus have become common, and doctors in the tropical city fear outbreaks of more serious diseases like cholera due to a lack of running water.
"The risk now is infections. There could be an epidemic," said Ramon de Jesus Velarde, the head of Tabasco state preventive health program. He said cholera and dengue fever were the main threats.
Standing water attracts mosquitoes, which can carry infectious diseases such as dengue. Cholera is transmitted by contaminated water.
Days of heavy rains last week put most of Tabasco state, including the capital Villahermosa, under several feet of water, in one of the largest natural disasters in recent Mexican history.
Swarms of mosquitoes buzzed around the head of Leticia Frias, 40, as she herded livestock in a field turned into a swamp on the outskirts of the city.
"We're worried about the flies now that pools of water have formed," said Frias, who has sheltered in a wooden hut at the roadside for the last eight days after her home was flooded.
FUMIGATION PROGRAM
Interior Minister Francisco Ramirez said fumigation of waterlogged areas would start in the next few days to reduce the risk of diseases.
"They will be beginning work in the next few days to fumigate all the areas that are now under water," Ramirez told a news conference in Villahermosa on Wednesday evening.
The floods, caused by rivers overflowing after heavy rain, killed at least three people and damaged about $655 million worth of crops, homes, businesses and infrastructure.
A further four people were killed, and 21 others were missing, in the remote village of Juan de Grijalva, in neighboring Chiapas state, after the village was hit by a huge mudslide more than half a mile long.
Rescue workers continued to dig in the mud and search murky floodwater for the missing people.
Much of downtown Villahermosa was still under water and thousands of people lined up to receive food handouts.
Soldiers pulled dozens of dead cows and dogs from the water in the Gaviotas neighborhood of the city. Residents wore face masks to guard against the overwhelming stench.
Army and government doctors have given thousands of injections in recent days against hepatitis and tetanus. Residents, many wearing only flip-flops on their feet, cut themselves on submerged objects as they waded through muddy waters.
The government was planning a mass grave for thousands of cows, sheep and other livestock lost after farmers' fields were flooded in rural Tabasco.