Marrriage and Midlife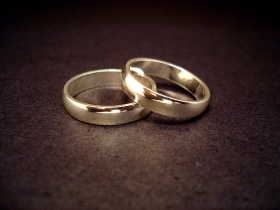 To marry or not to marry? There are many pros and cons. Could marriage, and associated companionship, be a key to a longer life? According to new research, not having a permanent partner, or significant other, during midlife is linked to a higher risk of premature death during those midlife years. The work, by Dr. Ilene Siegler and colleagues from Duke University Medical Center in the US, is published online in Springer's journal Annals of Behavioral Medicine.
The aims of their study was to evaluate marital history and timing on mortality during midlife, test the role of pre-marital personality, and quantify the role of health risk behaviors.
The researchers analyzed data for 4,802 individuals who took part in the University of North Carolina Alumni Heart Study (UNCAHS) - an ongoing study of individuals born in the 1940s. The authors were particularly interested in stability and change in patterns of marital and non-marital status during midlife, controlling for personality at college entry (average age 18), socioeconomic status and health risk behaviors.
Marital history predicts premature mortality as compared to a never married as a 2.33 times higher risk of death. Midlife marital history shows that not having a partner during midlife has the highest risk of death. Controlling for personality and health risk behaviors reduces but does not eliminate the impact of marital status.
Life expectancy has always varied based on a number of factors. Before what we call modern civilization the average person from birth had a life expectancy of the mid thirties. Life expectancy increases with age and the economic life style that is available. In the modern era a life expectancy of the seventies is considered a norm.
Economic circumstances may also affect life expectancy. For example, in the United Kingdom, life expectancy in the wealthiest areas is several years longer than in the poorest areas. This may reflect factors such as diet and lifestyle as well as access to medical care. It may also reflect a selective effect: people with chronic life-threatening illnesses are less likely to become wealthy or to reside in affluent areas.
The relationship between economic circumstance and life expectancy is not clear-cut, however. A study by José A. Tapia Granados and Ana Diez Roux at the University of Michigan found that life expectancy actually increased during the Great Depression, and during recessions and depressions in general. The authors suggest that when people are working extra hard during good economic times, they undergo more stress, exposure to pollution, and likelihood of injury among other longevity-limiting factors.
And now we have the marriage factor to consider if we wish a longer life.
For further information see Marriage,
Rings image via Wikipedia.