250 Million Pounds of Toxic Beads at Mardi Gras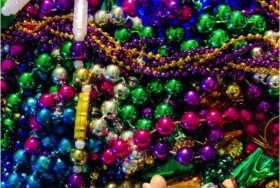 Will you be celebrating Mardi Gras today, or are you more concerned about the environmental and ethical impact of 250 million pounds of plastic beads imported from China?
A Christian holiday with origins in Europe, Mardi Gras, meaning "Fat Tuesday" in French, is recognized as a day of indulgence before the beginning of the penitential season of Lent on Ash Wednesday. 
250 Million Pounds of Toxic Beads
But there is a dark underside to the Mardi Gras festivities.
Every year, an estimated 25 million pounds of plastic beads make their way to New Orleans.
The beads are central to the ritualized gift exchanges of Mardi Gras season, a multi-day series of parties and parades that brings an estimated million revelers to the streets for what is sometimes called "the Greatest Free Show on Earth."
Members of Mardi Gras "krewes," the private social organizations that stage the parades, spend thousands to purchase the shiny baubles before flinging them to crowds who beg for them with the exclamation, "Throw me something, mister!"
These beads from China are made from toxic waste the U.S. ships off, and are likely to end up in the bodies, landfills and water supply of the citizens of New Orleans.
As WWLTV.com reports:
"There isn't a system in the body that isn't affected by lead," said Dr. Howard Mielke, a Tulane toxicologist who has been studying lead levels in the city for many years.
Dr. Mielke, along with the Ann Arbor, Michigan-based non-profit group HealthyStuff.org and Dr. Holly Groh, a founder of VerdiGras in New Orleans, studied beads from China. They found lead and an array of toxic and cancer-causing metals and chemicals, including bromine, chlorine, cadmium, arsenic, tin, phthalates and mercury.
Add that to the lead the beads pick up from the city ground and hands — especially those of children — that end up in mouths, and there can be permanent brain damage.
At least one of the harmful chemicals was found in 90 percent of the beads at levels higher than allowed by the Consumer Product Safety Commission.
"Basically, if you have lead exposure early on in childhood, it does change the ability throughout life," Dr. Mielke said.
Read more at ENN affiliate, Care2.
Mardi Gras beads image credit Allison Winter, ENN.