Interpreting Hurricane Forecast Displays Can Be Difficult for General Public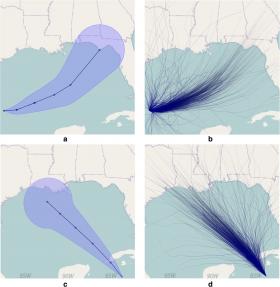 The 2017 hurricane season has highlighted the critical need to communicate a storm's impact path and intensity accurately, but new research from the University of Utah shows significant misunderstandings of the two most commonly used storm forecast visualization methods.
The study, published by Cognitive Research: Principles and Implications, looked at summary displays and ensemble displays for communicating information about a hurricane. Summary displays show the possible paths of a hurricane as a cone with hard boundaries, referred to as the "cone of uncertainty." Ensemble displays show lines indicating many possible paths that a hurricane could take.
There are advantages and disadvantages to each technique, according to study co-authors Lace M. Padilla, Ian T. Ruginski and Sarah H. Creem-Regehr of the Department of Psychology at the University of Utah.
"Even though hurricane forecasts are costly and have a high impact on health and safety, there has been little research demonstrating how to depict forecast uncertainty to the general public effectively," said Padilla.
In one experiment, the researchers showed participants either a summary display or an ensemble display with hurricane forecast data and asked them to interpret size and intensity of the storm on a hypothetical oil rig that was shown in different locations. Two additional experiments used only ensemble displays, showing oil rigs at different distances from the storm's center and either on or between forecast lines.
Read more at University of Utah
Photo: Examples of the cone (a, c) and ensemble display (b, d) visualization techniques of hurricane one (a, b) and two (c, d)
Photo: University of Utah