Live Phone Calls Better Than Text Messages and Letters to Remind People About Colon Cancer Screening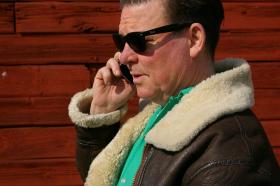 Live phone calls significantly outperform text messages and letters as a way to remind patients to complete and return at-home screening tests for colon cancer, according to new research in the Journal of General Internal Medicine.
The study included more than 2,700 patients who receive care in safety-net clinics and who were overdue for colon cancer screening. Colon cancer screening is recommended for everyone ages 50-75.
The patients were sent test kits by mail, and 10 percent mailed back their completed tests within three weeks. Those who did not return the kits within that period were assigned to one of seven reminder interventions. These included a phone call from a clinic outreach worker (live call), two automated calls, two text messages, a single reminder letter, or a combination of these strategies.
The live phone call intervention was most effective, resulting in 32 percent of patients in this group completing and returning their test kit within six months. The text message intervention was the least effective — only 17 percent of patients in this group completed and mailed back their test.
Read more at Kaiser Permanente
Photo credit: Skullman via Pixabay