Rave Reviews: Time for Your Weekly Cleansing Ritual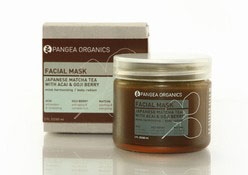 With all the great summer sales and adventures, I'm finding my wallet to be lighter than ever. Indulging in a professional massage sounds like fun, but it's just not in the cards these days (because they are maxed out). My skin, wallet, and psyche have all been saved thanks to the Pangea Organics Facial Mask.
For less than two large pizzas, you can treat yourself to a weekly natural, deep-cleansing mask. Exotic ingredients; acai, goji berries, and matcha; sooth, revitalize and harmonize your skin, no matter the type. So put the take-out joint on speed dial, turn off your phone, and forget about the world for a night - a little relaxation will do you good.