Veja! Organic Cotton Sneakers Are Here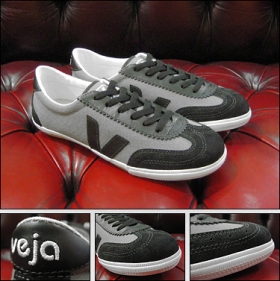 The dope sneakers for the hipsters down in Brazilia are these organic cotton sneaks from Veja. Veja means "Look!" in Portuguese and these fly kicks sure do make you wanna do just that. The soles are made from natural rubber sourced from the Amazon rainforest. When Amazonians can make a livable wage by harvesting goods from the forest, they are much less likely to sell the entire trees for a one time profit.
This is a perfect example of when conscious commerce lends to both social and environmental sustainability at the same time, while also turning a profit and getting some great PR to boot! Aren't you more excited to buy the Triple Bottom Line shoe, rather than the ol' guilty pleasure sneaker ( the ones where you're sure you're ruining a young child's life by indirectly forcing them into slavery so we can get a good price on trainers)? Yeh, me too. Veja purchases their rubber from cooperatives of "rubber tappers" a.k.a. seringuieros. Check out Veja's video on rubber tapping.
I realize a video on rubber tapping may sound boring, but it has a really handsome Brazilian guy zooming through the Amazon on a motorcycle with great music.
Check the video here