India's humble rickshaw goes solar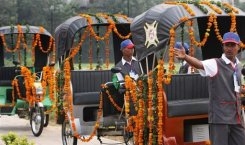 A state-of-the-art, solar powered version of the humble cycle-rickshaw promises to offer a solution to urban India's traffic woes, chronic pollution and fossil fuel dependence, as well as an escape from backbreaking human toil.
The "soleckshaw", unveiled this month in New Delhi, is a motorised cycle rickshaw that can be pedalled normally or run on a 36-volt solar battery.

Developed by the state-run Centre for Scientific and Industrial Research (CSIR), prototypes are receiving a baptism of fire by being road-tested in Old Delhi's Chandni Chowk area.
One of the city's oldest and busiest markets, dating back to the Moghul era, Chandni Chowk comprises a byzantine maze of narrow, winding streets, choked with buses, cars, scooters, cyclists and brave pedestrians.
"The most important achievement will be improving the lot of rickshaw drivers," said Pradip Kumar Sarmah, head of the non-profit Centre for Rural Development.

"It will dignify the job and reduce the labour of pedalling. From rickshaw pullers, they will become rickshaw drivers," Sarmah said.

India has an estimated eight million cycle-rickshaws.
The makeover includes FM radios and powerpoints for charging mobile phones during rides.
Gone are the flimsy metal and wooden frames that give the regular Delhi rickshaws a tacky, sometimes dubious look.
The "soleckshaw," which has a top speed of 15 kilometres (9.3 miles) per hour, has a sturdier frame and sprung, foam seats for up to three people.

The fully-charged solar battery will power the rickshaw for 50 to 70 kilometres (30 to 42 miles). Used batteries can be deposited at a centralised solar-powered charging station and replaced for a nominal fee.
If the tests go well, the "soleckshaw" will be a key transport link between sporting venues at the 2010 Commonwealth Games in New Delhi.
Article Continues:Â http://www.france24.com/en/20081013-indias-humble-rickshaw-goes-solar