More Graywater On The Way for Californians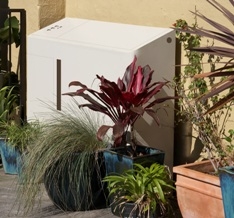 It's been a long time in coming, but California is finally taking the steps necessary to make installing a graywater treatment system a reality for homeowners across the state. That's good news for all of us, for California's strict building codes often become templates for other locales across the country. The plans have been in the works for awhile and were originally supposed to take effect in January 2011, but due emergency conditions caused by an extended drought they'll instead take effect today (August 4).
So, what's so new and different about the standards? Here are some of the aspects that should finally put a graywater system in reach for many Californians:
* Graywater systems that serve a clothes washer or other single water fixture no longer need a building permit;
* The standards give easy guidance and sizing information for a wide range of soil types;
* Graywater can be discharged above ground, but the discharge point must be covered by mulch and the water can't pond or run off of your property.
There are still some constraints, though, most of which make sense for safety reasons. Among them are:
* The graywater discharge must shown to be at least three feet above groundwater;
* The system must have a valve that can route graywater to the sanitary sewer if necessary;
* The water cannot be used in any spray irrigation system;
* The water cannot be used to irrigate any crops where it will contact edible parts of the plants.
There's one slightly worrisome clause in the new code, which allows local agencies to opt out of the requirements and further constrain graywater systems if a) they hold a public hearing and b) pass an ordinance or resolution to do so. Stay vigilant, and make sure your local government doesn't take this route!
There were some other code-related developments in California over the past few days that also should warm the hearts of green builders everywhere:
* California adopted green building standards as part of its official building code effective August 1st. The new code has many elements that LEED-ers out there will recognize, with a number of details specific to California's energy and water needs (detailed plan here).
* New standards allowing for the use of PEX (cross-linked polyethylene) took effect on August 1st. What's the big deal here? Well, PEX plumbing is durable and far less greenhouse gas-intensive than copper. And, it allows for manifold-based plumbing designs that are very efficient and can be optimized to reduce hot water losses in piping.
This article was reproduced with the kind permission of Low Impact Living.