Jews, Muslims, Christians in Israel Unite for Planet Earth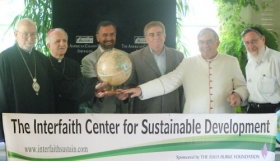 They're doing in person and specifically in Israel what Green Prophet has been doing for the last four years: showing a faith based and cultural context in environmental action. Launched last year, meet the Jerusalem-based Interfaith Center working on issues like climate change.
Shema Yisrael is a statement of faith that many Jews say at bedtime, during daily prayers and in times of need. "Hear, O Israel: the Lord is our God, the Lord is one" is the first line, emphasizing the monotheistic nature of Judaism. For Rabbi Yonatan Neril, a 30-year-old married father of one, the second line in the prayer –"Blessed is the name of God"s kingdom forever" — provides hope for the planet. Seeing environmental degradation as a spiritual problem, he has turned to leaders of the three monotheistic faiths to right our ecological wrongs.
Since last year, Neril has been building the Interfaith Center for Sustainable Development in Jerusalem. The six-person non-profit organization recently held the first interfaith meeting to formulate climate change policy, which impressively resulted in commitments of support from Israel's Chief Rabbinate, the Palestinian Ministry of Religious Affairs (Waqf), the Palestinian Sharia Courts and the assembly of the Heads of Churches of Jerusalem.
"The second verse in Shema gives me hope and inspiration that there will be balance on this planet, that God's glorious kingdom will be blessed forever," says Neril, who was raised near Berkeley, California, and has lived in Israel for eight years.
"This is hope in the face of what scientists are saying about what will happen in this century," he tells ISRAEL21c.
Sponsored by the Julia Burke Foundation in California, his organization divides its actions into two spheres: one dedicated to fighting climate change, the other to providing ecological-theological seminars and college-credit courses to show how faith intersects with environmental values.
Article continues: http://www.greenprophet.com/2011/09/jews-mulsims-christians-interfaith/
Image credit: www.greenprophet.com