A Sustainable America's Cup Race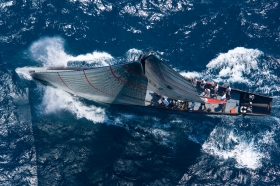 Although the America's Cup is one of the most globally recognized names in sport, it remains relatively unwatched in its namesake country. That's likely to change in 2013 when the cup roars into San Francisco Bay – the first time in modern history that it will be easily viewable by spectators on shore (in years past, the race has taken place well off shore so anyone without a boat or helicopter was relegated to watching on TV). In fact, no less than five million people are expected to crowd the piers over the course of the final two events in June & September 2013.
With such a turnout, one can imagine both the City of San Francisco and the cup organizers see a huge opportunity for education, outreach, and the promotion of all manner of issues. Sustainability will naturally be at the forefront of visibility.
Launched last week, the America's Cup launched a thorough sustainability plan. Among the highlights:
The plan defines a "sustainable event" as one that minimizes "negative event impacts (such as air pollution from spectator travel or spectator waste) and maximizes event benefits (such as habitat preservation and promoting new green technologies) now and into the future".
America's Cup boat via Shutterstock
Read the full article and download the plan at Triple Pundit: http://www.triplepundit.com/2012/02/americas-cup-sustainability-san-francisco