New Environmentally Themed Sci-Fi Novel "Sowers of God:The Holes of Mare Frigoris" Explores Dark Future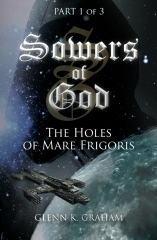 What does the future entail when it comes to the environment and the energy crisis? Will we come up with a sustainable method of procuring energy that has no negative repercussions to the Earth or will we continue to use up our resources and be forced to rely on resources outside of our planet? In Glenn K. Graham's first novel "Sowers of God: The Holes of Mare Frigoris", Graham imagines the latter.
"
"Sowers of God" takes place in the near future when global warming has wreaked havoc on the Earth. Many of Earth's resources have been used up. For energy, Earth now relies on moon mines for Helium-3, which is then taken down by space elevator to Earth's fusion reactors to be processed and used. Not everyone is happy about the mining of the moon. The religious eco-terrorist group Sowers of God, whom the book is named after, believes no world should have dominion over any other planet and are willing to do anything to stop it. While this was the most compelling plot in the book, there are several other story lines going on.
"Sowers of God" is told through the view of number of interesting characters. The main character Johan (Oxy) Taylor, is a lunar Mining Operation Lead. While surveying the moon for potential Helium-3 sites he makes a puzzling discovery. On top of his discovery Oxy also finds that the only woman he ever loved, Adrianna, is preparing for an 8 month trip to Mars, on a mission whose true purpose is shrouded in mystery, even to the crew.
Glenn K. Graham's background includes a Masters in chemical engineering as well as working as a project scientist and process research leader for the Union Carbine Corporation and the Dow Chemical Company. "Sowers of God" reflects Grahams current interest in lunar mining and the usage of a space elevator. He will be presenting a paper at the upcoming 2012 Space Elevator Conference in Seattle this coming August.
I recommend "Sowers of God" to anyone who enjoys reading science fiction based in realism and ethics. I found the book easy to read and the story made me ask myself questions. Will we ever find a clean unlimited energy resource? Are we alone in the universe? What right do we have over other worlds if we can't even take care of our own?
My main issue with the book is that being it was only the first part of a trilogy, the book sometimes felt more like a prequel then a full story. When I finished the book I was frustrated because it felt like the book was just getting started. I guess this means I'll have to wait for the next book to come out.
For More Information:
http://www.amazon.com/Sowers-God-Frigoris-Trilogy-Volume/dp/1470164183/ref=sr_1_1?ie=UTF8&qid=1340985959&sr=8-1&keywords=sowers+of+god