Neighborhood electric vehicles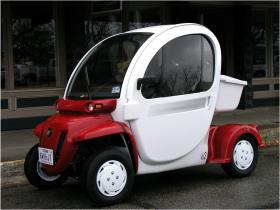 While much of the focus of late has been upon mainstream electric vehicles it seems as though the popularity of Neighborhood electric vehicles continues to grow. These vehicles have a history which is far more successful than there larger electric vehicle counterparts but receive very little in the way publicity or promotion. The Global Electric Motor (GEM) brand is by far and away the best known brand in this particular sector having changed hands on numerous occasions in the past.
So, why is it that NEVs continue to sneak under the radar yet gain in popularity?
There is no doubt that the US market is by far and away the largest NEV market in the world with an array of different types highly visible across the country. These can take many different forms including golf buggy style vehicles, one seater cars, commercial electric vehicles, college/business campus travel options as well as multi-passenger NEVs.
The US authorities specifically approved the use of low-speed vehicles on the streets of the country under the Federal Motor Vehicle Safety Standard act. These are deemed to be vehicles with four wheels, weighing less than 1400 kg with a top speed of between 20 mph and 25 mph. On the whole they are restricted to use on streets with a maximum speed limit of between 35 mph and 45 mph. However, a little research on the Internet will show that many owners have modified their vehicles to go well in excess of the 25 mph statutory limit.
Neighborhood EV image credit http://electrical-cars.net/gem/buy-gem-global-electric-motor-cars-hybrid-cars.html.
Read more at ENN Affiliate Electric Forum.