China Emissions Situation Grim in First Half of 2007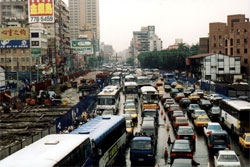 BEIJING -- Emissions of a key air pollutant fell slightly in China in the first half of the year but water quality worsened, the country's environmental watchdog said Tuesday, urging tougher measures to deal with a grim pollution situation.
The State Environmental Protection Agency said that brisk economic growth and inadequate enforcement of environmental regulations were to blame for the "many outstanding challenges" hampering efforts to cut the country's air and water pollution.
In the first half of this year, the total national emissions of sulfur dioxide totaled 12.634 million tons, a decline of 0.88 percent compared with the same period last year, the agency said in a statement on its Web site.
Chemical oxygen demand, a water pollution index, rose by 0.24 percent over the same period in 2006, the agency said.
"We made some progress in our emissions control work, however, the situation is still grim," the agency said.
China has some of the most polluted cities in the world after two decades of breakneck economic growth, and the government has been losing ground in recent years in trying to balance environmental concerns with economic growth.
The agency blamed some local government officials for failing to grasp the need for sustainable development, but did not single out any regions or individuals.
It said emissions reduction was undercut by faster-than-expected GDP growth of 11.5 percent in the first half of the year and called the style of development "haphazard."
A weak legal environment, spotty enforcement, a lack of investment in emissions controls and insufficient participation from grass roots organizations were all cited as additional obstacles standing in the way of pollution clean up.
"In the next half year, we will have to take more forceful measures to actively implement the policy and regulations," it said.
China had set a goal of cutting the emission of major pollutants by 10 percent in the five years to 2010. Last year, it failed to reduce the two main pollutants by 2 percent. Sulfur dioxide emissions increased 1.8 percent and chemical oxygen demand rose 1.2 percent in 2006 compared to the previous year.
Sulfur dioxide emissions are chiefly caused by coal burning, and China is already the world's largest producer and consumer of coal, depending heavily on coal-fired power plants for electricity.
Source: Associated Press
Contact Info: