Pittsburgh Paints Goes EcoGreen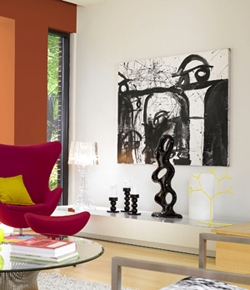 PITTSBURGH - Pittsburgh Paints, a global paint product manufacturer, today announced a major greening of it's product lines. The 2008-2009 season will see the introduction of a line of no VOC paints called "EcoEcho". In addition to being free from carcinogenic volotile organic compounds (VOC's), the color palettes are designed to echo the growing interest in the ecological and environmental awareness.
The paints, the company says, represent a cultural shift toward balance and authenticity as well as a quest for more organic and eco-friendly colors in the home. Part of the new line includes the Voice of Color program. This approach to colors is based on the idea that every color has an emotional association and that individuals are drawn to different colors for reason inherently tied to their unique personalities. It's an ancient sensibility applied for the first time, to a modern paint pallete system.
"It has always felt good to be green ... and now it looks good, too," said Josette Buisson, artistic director of Pittsburgh Paints. "Beauty in our surroundings has evolved not only as an aesthetic concept but as an expression of our core values. More and more consumers are beginning to seek out environmentally friendly choices."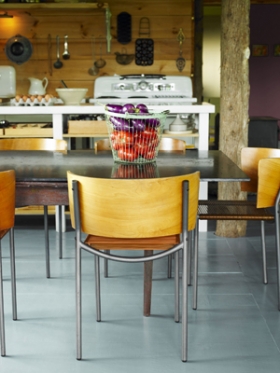 Buisson noted that eco-consciousness is being broadcast from every angle-spanning fashion, home decor, automobile design, even food trends. "From paint to cosmetics, jeans to kitchen flooring, our preference for greener options makes a statement about who we are, and our new way of life," said Buisson.
There are many ways to be green, according to Buisson, and it is the strength of this diversity that underpins the palettes of EcoEcho. By identifying four distinct decorating trends, Pittsburgh Paints offers consumers the opportunity to create a very personal, customized approach to going green in color and style.
The four emerging color trends within EcoEcho for 2008-2009 are:
-- Fair Trade - Warm, natural, organic colors comprise this trend that is deeply attached to a respect for nature and for fundamental human values. It jostles attitudes of ultra-consumerism as it restores esteem for the handmade and the carefully crafted. Fair Trade, reminiscent of the fashion colors of '70s, epitomizes the necessity of socially responsible actions in design and sustainability.
-- EcoTechno - Basic core colors and essential neutrals achieve harmony when confronted with today's technology. The colors symbolize balance between rigor and innovation-the grounding beige and white contrast the more assertive red, green and blue. Aligned with the concepts of simplicity and innovation, EcoTechno style is measured, well-balanced, and efficient-at home in a space equipped with intelligent products that have multiple functionalities and reduced energy consumption.
-- EcoLoco - Bold, beautiful pink, orange, and blue share the stage with acidic green in this trend born of freedom and new possibilities. EcoLoco stems from a strong belief in the capacity of the human mind to create change. This trend is audacious, humorous, and exuberant at heart, combining glamour and eccentricity and revisiting the classics with irreverence.
-- Vintage - Soft, nuanced colors lend a nostalgic charm to this trend inspired by authenticity and sensibility. It mixes personal memories, the noble patina of time, and a fascination with the beautiful objects of the past. Eschewing sharp contrasts, this quietly wintry palette captures colors touched by a gentle dusting of time-from pale, spidery blue to paper turned creamy-yellow with age.
Environmental sustainability is the most powerful trend to influence home decor and building design in a generation, according to PPG, manufacturer of Pittsburgh Paints. To help consumers create greener spaces, both in look and functionality, PPG has developed an exclusive selection of products that meet environmental sustainability specifications, including Pittsburgh Paints Pure Performance Paints, an environmentally friendly paint line with zero VOCs.
Pittsburgh Paints Pure Performance Paints feature minimal odor during application and drying, and mildew resistance on the paint film. The first paint to receive Green Seal Class A Certification, Pure Performance is available in four sheens and more than 1,800 colors, including the EcoEcho color trend palettes.
Pittsburgh Paints developed The Voice of Color program on the premise that every color has an emotional association and that individuals are drawn to different colors for reason inherently tied to their unique personalities.