Bali talks to seek global climate deal in 2009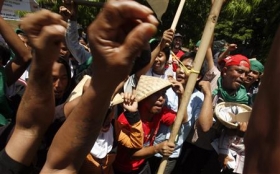 By Alister Doyle and Gerard Wynn
BALI, Indonesia (Reuters) - Delegates from about 190 nations gathered in Bali on Sunday to try to build on a "fragile understanding" that the fight against global warming needs to be expanded to all countries with a deal in 2009.
The U.N.'s top climate change official told thousands of delegates that the eyes of the world would be on their Dec 3-14 talks in an Indonesian beach resort, saying time was running short to avert ever more droughts, heatwaves and rising seas.
"We're already seeing many of the impacts of climate change," Yvo de Boer, head of the U.N. Climate Change Secretariat, told a news conference on the eve of the meeting in the tightly guarded venue. "We are on a very dangerous path."
The Bali meeting, of senior officials with 130 environment ministers attending the final days, will try to launch formal negotiations ending with a new U.N. climate pact in 2009 that will include outsiders led by the United States and China.
So far, only 36 industrialized nations in the Kyoto Protocol have caps on greenhouse gas emissions, mainly from burning fossil fuels, running to 2012. Most governments agree on a need for more action but disagree about how to share out the burden.
"More discussions will be needed to build on this fragile understanding and explore how it can be put into practice," according to a U.N. report to be submitted in Bali.
The report, summing up two years of talks about new ways to fight climate change, said some countries were willing to make deeper cuts in emissions, others said existing promises should be kept and still others wanted incentives to join in.
"We heard no dispute that developed countries need to keep taking the lead," wrote Howard Bamsey of Australia and Sandea De Wet of South Africa, the authors of the report.
OPENNESS, FLEXIBILITY
Prospects for a global deal have been boosted by a decision by President George W. Bush for the United States to take part beyond 2012. Bush opposes Kyoto as a threat to U.S. economic growth and said it unfairly excluded goals for poor nations.
"We'd like to see consensus on the launch of negotiations. We want to see a Bali roadmap," said Paula Dobriansky, U.S. Under Secretary of State for Democracy and Global Affairs.
"We will go to Bali with openness, flexibility."
The United Nations wants a new global pact to be agreed at U.N. talks in 2009 in Copenhagen, giving good time for governments to ratify before Kyoto's first period ends in 2012.
De Boer said Bali's goal was simply to agree to negotiate a successor to Kyoto, leaving details for later. "Millions of people around the world...will be focusing their attention on what is going to be the response of the politicians," he said.
Chinese Premier Wen Jiabao told U.N. Secretary-General Ban Ki-moon in a phone conversation on Sunday that China would adopt an "active, responsible and constructive" approach in Bali. But he urged rich nations to help.
"While taking the lead in greatly cutting emissions, developed nations should also help developing nations improve their ability to respond to climate change," the foreign ministry Web site paraphrased Wen as saying.
"Developing nations should adopt relevant policies in accordance with their capability, in order to make as much of a contribution as they can to combating climate change," it said.
Rich nations want developing nations at least to brake the rise of their emissions -- China is opening a new coal-fired power plant at the rate of more than one a week.
And developing countries will push for a new system of credits to help slow the rate of deforestation. Trees store carbon dioxide, the main greenhouse gas, when they grow.
-- For Reuters latest environment blogs click on:
http://blogs.reuters.com/environment/
(Extra reporting by David Fogarty and Adhityani Arga, Chris Buckley and Emma Graham-Harrison and Jason Subler in Beijing, Editing by David Fogarty)