Beijing turns on the heat on polluting kebabs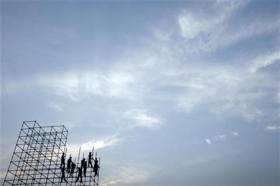 BEIJING (Reuters) - Beijing, wary of blowing its clean air target before next year's Olympic Games, will crack down on outdoor kebab sellers as part of a 20-day campaign against street-level polluters, local media said on Monday.
Beijing's air pollution is a major concern for athletes and officials planning for next August, and Olympic chief Jacques Rogge said that some Games events would have to be rescheduled if air quality were not good enough.
Local Olympic organizers have pegged Beijing's efforts to improve air quality to its "blue sky day" quota, referring to a targeted number of days with acceptable levels of pollution.
Experts have dismissed the gauge as unscientific and based on incomplete data, but organizers defend it as a means of raising awareness of air pollution problems among residents.
A campaign kicked off on Monday dubbed "guard the blue sky" would see inspectors cracking down on dusty construction sites, uncovered trucks and outdoor kebab vendors to "guarantee the smooth achievement" of the 2007 target of 244 blue sky days, the Beijing Morning Post said.
Beijing's environmental bureau posts daily air pollution results on its Web site, but is more cagey on cumulative totals.
The city has poured about $16 billion in environmental programs for the Games, dismantling dirty factories and stripping thousands of high-polluting taxis and buses from the roads.
The Beijing Olympic Games start on August 8, 2008.
(Editing by Nick Macfie)