Kerry sells Democrats' green message in Bali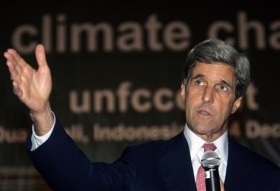 By David Fogarty
NUSA DUA, Indonesia (Reuters) - Senator John Kerry swept into climate talks in Bali on Monday saying an administration run by the Democrats would mean the difference between night and day on policies to fight global warming.
Kerry said the Democrats want to do everything President George W. Bush doesn't to fight climate change, namely back mandatory emissions targets and pass a bill to create a cap-and-trade system for carbon dioxide emissions.
"I am convinced the politics of 2009 in the United States are going to be just night and day, different from where we have been before," he told a news conference.
Republican Bush's falling approval rating with voters and a Democratic victory in midterm elections last year have given the Democrats high hopes of recapturing the White House in the November 2008 presidential poll. Kerry himself ran for the presidency in 2004.
"On behalf of us in the Senate and Congress who have been pushing for action on climate change, we believe that it is critical here in Bali to have a roadmap that has a strong mandate, based on science, which sets a date," he said.
Kerry spoke for nearly 30 minutes at the press conference, and stressed the United States, particularly individual states, and numerous large corporations, had already taken steps to curb emissions.
At one point his microphone cut out.
"Not even the (Bush) administration can be blamed for this," he said to laugher from the audience.
The U.N.-led talks are seeking to agree on the ground rules for launching two years of negotiations on a broader climate change pact involving all nations to succeed or replace the Kyoto Protocol from January 1, 2013.
About 190 nations are meeting in Bali.
Kerry stressed the need for all countries to be brought on board and said transferring clean energy technology was a crucial way to cut burgeoning emissions from developing nations. He noted that China's emissions would soon surpass the United States' carbon pollution.
"The message we bring is that the United States is willing to be at the table, the United States is going to lead, the United States is going to embrace significant change in policies in order to deal with climate change."
"This has to be driven by science, not politics," he said of global negotiations to curb greenhouse gas emissions.
He was confident an energy bill to be presented to the Senate and which lays out guidelines for a cap-and-trade system would become law.
"By 2009, if we haven't been able to pass it next year, we're going to pass this. This is going to pass and we are going to get a cap-and trade regime in the United States," he said.
Harlan Watson, the head of the U.S. delegation in Bali, said on Monday his team had not become irrelevant, despite the Bush administration being undermined by federal and state lawmakers' efforts to fight carbon emissions.
"I don't feel isolated," Harlan Watson said. He said he had "very cordial" contacts with many delegations.
-- For Reuters latest environment blogs click on:
http://blogs.reuters.com/environment/
(Editing by Alex Richardson)