U.N. aims to provide carbon neutral example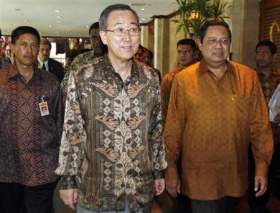 NUSA DUA, Indonesia (Reuters) - More countries should follow the examples of Costa Rica, Norway and New Zealand and aim to wipe out their contribution to climate change altogether, the U.N. Environment Programme (UNEP) said on Wednesday.
"This is not peanuts, it's whole countries," UNEP chief Achim Steiner told a news conference.
The United Nations aims to go completely carbon neutral starting with the "small step" of offsetting the carbon footprints of U.N. officials attending December 3-14 climate talks in a luxury Indonesian island resort in Bali.
The U.N., which reckons it emits about 1 million tonnes of greenhouse gases a year mainly by burning fossil fuels for travel and running offices, could show how it can be done.
"It's important that the U.N. takes the lead ... how to achieve it," said Erik Solheim, environment minister for Norway, which aims to be climate neutral by 2050.
Among nations, Costa Rica is set to win the carbon neutral race by a mile, aiming to wipe all its emissions by 2021 in time for a 200th independence anniversary party, by planting trees and relying more on its brimming hydropower.
"Costa Rica will plant 5 million trees in 2007 and in 2008 the goal will be doubled," said Paulo Manso, head of the Costa Rica's negotiating team attending the climate talks.
About 190 nations are meeting in Bali to try and launch negotiations on a global climate pact to replace the Kyoto Protocol from 2013.
Going carbon or climate neutral involves as far as possible cutting your emissions of the greenhouse gases blamed for global warming, for example by switching from high carbon-emitting fossil fuels to renewable sources of energy such as wind and water.
For all the rest you pay someone else to cut emissions on your behalf. The trend has taken off among U.S. and European corporates ranging from Google to HSBC bank.
But such goals have drawn slurs of tokenism from some skeptics who point out that volunteers often have very low carbon emissions to start with, in contrast to heavy industry.
Costa Rica, Norway and New Zealand, which wants a carbon neutral energy sector by 2040, all have small populations and plentiful renewable energy resources, especially hydropower.
Several environmental groups have questioned the quality of carbon offsets available for sale under the U.N.-run Kyoto Protocol. It can be difficult to prove, for example, that sellers weren't planning to cut their emissions anyway.