U.S. toy makers, trade policy caused recalls: report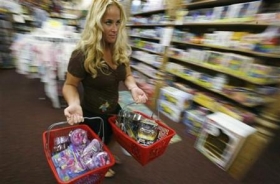 WASHINGTON (Reuters) - A torrent of toy recalls this year is due in part to U.S. trade agreements encouraging American toymakers to cut costs by shifting production overseas, the watchdog group Public Citizen said on Wednesday.
A report by the non-profit group said more than 87 percent of U.S. toys are imported, a dramatic shift from the 1970s when almost 90 percent of them were produced domestically.
"This toy safety crisis was made in America by toy corporations who chose to relocate their production to locations that can't ensure toy safety," Lori Wallach, director of Public Citizen's Global Trade Watch division, told reporters.
Concerns about toy safety have been at the forefront of the holiday shopping season this year, as millions of Chinese-made toys have been recalled for excessive lead content or other problems.
Some of the most popular branded toys sold in the United States, including Thomas the Tank Engine, Curious George and SpongeBob SquarePants, have been pulled from shelves for unsafe levels of lead and other hazards, such as small magnets.
Legislation that would crack down on toy safety and give more clout to the beleaguered U.S. Consumer Product Safety Commission is moving through the Senate and the House of Representatives.
Sen. Sherrod Brown, an Ohio Democrat, said toy manufacturers have irresponsibly pushed hard for foreign subcontractors to cut costs.
"We know these products are made in conditions and under an economic regime where there is no emphasis on toy safety," said Brown, who supported the findings of Public Citizen. "It's no surprise they make dangerous toys."
Spokesmen for Mattel Inc and Hasbro Inc, the two largest U.S toy makers, did not immediately return calls seeking comment.
The report said Chinese-made toys accounted for 94 percent of recalls in 2007, driven almost entirely by hazards related to excessive levels of lead. That is likely because paint with high levels of lead is much cheaper than paint with less lead.
If ingested, lead can cause developmental problems and behavioral disorders in children.
The Public Citizen report also said the prevailing hourly wage in China for toy manufacturing workers in 2006 was 36 cents, about 2.5 percent of the comparable U.S. wage.
Last week, Treasury Secretary Henry Paulson met with Chinese officials, and the two countries agreed to make sure that Chinese-made toys meet U.S. safety standards.
Brown said "failed trade policy" encouraged U.S. toy companies to move much of their manufacturing overseas to areas with less reliable safety standards.
The World Trade Organization and the North American Free Trade Agreements have provisions in them that provide foreign investor protections and limit product safety standards and inspections, the report said.
"These agreements prioritize ensuring a favorable investment climate for U.S. firms seeking to relocate production overseas to take advantage of sweatshop wages, weak regulatory systems, and cheap product inputs over the concern of most Americans," Public Citizen said in the report.
Brown said the United States can make toys safer by changing its approach in trade negotiations and giving fewer incentives to offshore production.
(Reporting by Karey Wutkowski)