McDonald's sees restaurants as green laboratories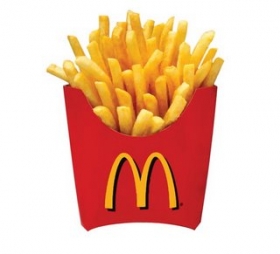 From low-flow water faucets to converting French fry oil to fuel, McDonald's Corp is testing ways to reduce the impact its 31,000-plus restaurants have on the world's resources.
The hamburger chain, whose iconic brand and presence in 118 countries has made it the target of anti-globalization activists, is using its scale and broad franchise ownership to address the issue. It is trying out a slew of individualized environmental initiatives, said Bob Langert, vice president of corporate social responsibility, in an interview, adding that it did not make sense to force one solution onto its entire system.
"In Japan, which is very land constrained, it's about waste. In Australia, the big issue is water," Langert said. "There is no one-size-fits-all when it comes to environmental initiatives."
In the last 20 years, McDonald's has made a variety of environmentally driven changes that are, for the most part, invisible to customers. They included reducing the amount and type of packaging it was using, moving a third of its fish purchases to more sustainable sources and implementing a program to buy goods made from recycled materials.
Langert became involved with the company's environmental initiatives after working on its 1988 move to eliminate containers made with chlorofluorocarbons, which were found to contribute to ozone depletion.
"We've eliminated the low-hanging fruit and medium-hanging fruit through the last 20 years," Langert said, but added that the pace of environmental change at McDonald's is picking up.
Increasingly, individual markets and franchisees are spearheading their own "green" initiatives, he said.
In Switzerland, for instance, the company installed dry urinals in its restaurants, cutting its water consumption by nearly 10 percent. Meanwhile in the United Kingdom, some restaurants are converting used frying oil into biodiesel that is used to fuel the trucks delivering goods to the stores.
In addition, in 2005 a franchisee in Savannah, Georgia, built the first McDonald's restaurant certified by the Leadership in Energy and Environmental Design (LEED) rating system.
Break out the lab coats!
The goal, Langert said, is to use the company's restaurants as "laboratories of green experimentation."
That way, something that works well in one market could later be expanded to the rest of the system. Langert likened the approach to the way some of McDonald's most popular menu items were conceived, with individual franchisees creating products such as the Egg McMuffin and the Filet-O-Fish before they were introduced in all of its restaurants.
Using cooking oil from the restaurants to fuel its distribution system, for instance, is one idea "that we can scale over time," Langert said, adding that "our prognosis is that that actually saves us money."
In addition, the company is trying out various new restaurant designs that incorporate more natural light and energy-efficient equipment.
So far, many of the adjustments McDonald's has made to combat climate change have been behind the scenes, including implementing "environmental scorecards" for its suppliers and joining a Greenpeace-led moratorium on buying soybeans from newly deforested areas in the Amazon.
The challenge going forward, Langert said, is to make changes in the restaurants that customers will not only accept, but appreciate.
Consumers, for instance, didn't like a switch to "greener" brown bags, saying they made the food seem less clean and fresh. The company switched back to white bags, while making other changes that included downsizing napkins and increasing the recycled content of Happy Meal boxes.
"We have to meet multiple needs," Langert said, referring to the balance between pleasing customers and making decisions for the business.
Earlier this year, a Happy Meal tie-in with the animated film "Bee Movie" included games that encourage children to make a positive difference to the environment. He added that the company has an opportunity to talk more to its customers about the environment and the measures it has taken.
"We need to shed more light on this," Langert said. (Reporting by Nichola Groom)