Bush climate plan criticized for lacking urgency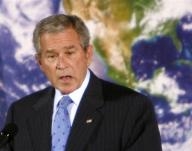 PARIS (Reuters) - The world needs tougher action to combat global warming than a plan by President George W. Bush to halt a rise in U.S. greenhouse gas emissions only by 2025, delegates at a climate conference in Paris said on Thursday.
South Africa, one of 17 nations at the two-day global warming talks that started on Thursday, called Bush's proposals "disappointing" and unambitious when many other industrialized economies are already cutting emissions.
"There is no way whatever that we can agree to what the U.S. is proposing," South African Environmental Affairs Minister Marthinus van Schalkwyk said in a statement.
Developing nations such as China and India also want the rich, led by the United States, to cut now.
The United Nations and France noted that studies by the U.N. Climate Panel say that world emissions will have to peak within 10 to 15 years and then fall sharply to avert the worst of floods, droughts, and rising seas.
Bush unveiled a plan on Wednesday to cap U.S. emissions by 2025, toughening an existing target of slowing the growth of emissions by 2012. The United States and China are the top greenhouse gas emitters.
"The growth in emissions will slow over the next decade, stop by 2025, and begin to reverse thereafter, so long as technology continues to advance," according to the plan published by the White House.
"It's good to have something on the table," Yvo de Boer, head of the U.N. Climate Secretariat, told Reuters of Bush's plan, saying it would be the basis of discussions in Paris.
"The science tells us we need to peak emissions in the next 10 to 15 years and then reduce them by half by the middle of the Century," he added of Bush's plan. "So this needs to be considered in that context."
BALI
The world agreed at a 190-nation climate conference in Bali, Indonesia, in December, to launch a two-year drive to negotiate a new U.N. treaty to fight global warming to succeed the Kyoto Protocol from 2013.
De Boer said it would be an "incredible challenge" to keep to a timetable agreed in Bali meant to end with a new climate deal to include all countries at the end of 2009 to succeed the Kyoto Protocol.
James Connaughton, head of the White House Council on Environmental Quality, would present the new plan to the conference on Thursday, U.S. officials said. The conference is studying ways that the top emitters, accounting for 80 percent of emissions, can contribute to the new U.N. deal.
France's Secretary of State for European Affairs Jean-Pierre Jouyet, in an opening address to the conference, also urged more rapid action than implied by Bush's timetable.
He noted that the European Union was seeking a cut in emissions of 50 percent based on conclusions of the U.N. Climate Panel "which imply a peak in emissions within the coming 10 to 15 years."
"Inaction would cost us five to 10 times more than required investments," to shift away from a model of economic growth reliant on use of fossil fuels towards more use of renewable energy such as wind or solar power, he said.
"This is disappointing," one senior European official said in Paris. "But Bush will be leaving office soon. What he says doesn't matter so much any more."
Republican presidential candidate John McCain and Democratic hopefuls Barack Obama and Hillary Clinton have all urged tougher caps on emissions than those proposed by Bush.