South Korean oil spill captain jailed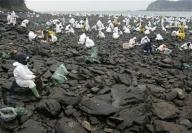 SEOUL (Reuters) - A South Korean court on Wednesday found the captain of a Hong Kong tanker criminally negligent in the country's worst oil spill, which caused at least $500 million in estimated damages and blackened a wide stretch of coastline.
In December 2007, a crane mounted on a Samsung Heavy Industries barge pierced the hull of the Hong Kong-registered Hebei Spirit tanker while it was at anchor, leading to over 10,500 tons of crude oil being spilled into the Yellow Sea.
The South Korean appeals court sentenced the Hebei Spirit captain to 18 months in jail and fined him 20 million won ($13,990). It also fined the ship's owner 30 million won.
A district court in June found the operators of the Hebei Spirit not guilty and said the accident was almost entirely the fault of the barge operator who lost control of the crane in rough seas. Prosecutors appealed that decision.
The district court gave out prison sentences of one to three years to the barge's crew members. The higher court rejected an appeal on their behalf.
The Hebei Spirit's management company has expressed dismay over the case, saying their crew acted with the utmost professionalism to slacken the anchor line and move the massive tanker on short notice to minimize the collision.
"The captain could have averted a collision by pulling up the anchor or moving backward at full or half the usual speed," the appeals court said in its decision.
The Taean area, about 150 km (95 miles) southwest of Seoul is still struggling to recover from the spill that wiped out oyster beds, coated birds in oil and turned national parks into tar-covered messes.
"The oyster business is all gone," said Ga Woo-hyun, a Taean province official.
The International Oil Pollution Compensation Fund said fisheries suffered about 206 billion won ($144.1 million) in losses while the clean up cost about 162 billion won.
More than 1 million South Korean volunteered to scrub oil covered rocks and clean blackened beaches in the weeks following the spill, which help decrease the cost of the clean up.
"The oil spill is still taking a toll here, how can it not be?" said Taean official Ga.
(Additional reporting by Jack Kim; Editing by Nick Macfie)