Cash for Clunkers Omits Ethanol Option & Downside of Recycling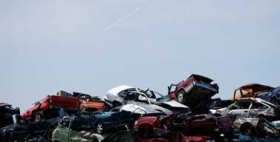 The cash for clunkers program is already proving too good to be true. The $1 billion in funds allocated for the program is almost gone after less than a week, and now congress is scrambling to get an additional $2 billion to extend the program.
With sales up at Ford and at dealerships, the program can be viewed as an unabashed success for the auto industry. And the environment is also winning, as the vehicles being purchased are estimated to be 69 percent more fuel efficient than the vehicles being dumped, according to the website CashForClunkersInformation.org.
On average consumers will save $750 per year on gasoline, which will offset a few of the car payments for their new vehicles. About 70 percent of the cars being traded in were from U.S. car companies, and almost three-quarters of the vehicles were SUVs, vans, or pickups.
But the trade-in program has 2 flaws that should prompt legislators from a knee-jerk reaction to extend the program. First, while the vehicles will be recycled, it still wastes much of the value of functional vehicles. It will take a lot of energy to put the metal and other parts back into use, and most of the components will go for naught.