Prius Top Seller in Japan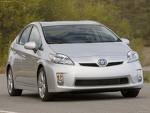 Toyota Motor Corp.'s Prius was Japan's best-selling car last year, the first time a hybrid has topped annual sales.
The Japan Automobile Dealers Association reported nearly 209,000 Prius cars sold in 2009, with buyers willing to wait up to six months for deliveries. Hybrids make up about 10 percent of new vehicle sales in Japan.
The Prius' success indicates a shift toward a widespread acceptance of green technology in Japan, boosted by tax breaks and a government cash-for-clunkers program set to continue through September 2010.
"The Prius represents the ideal package people in Japan are looking for in terms of environmental and driving performance," said Toyota spokesman Paul Nolasco.
The newest Prius gets 50 miles per gallon and starts at $22,000. Toyota reported that global Prius sales rose 41 percent in 2009, but the company will see competition from other "green" cars hitting the market this year, including the Chevrolet Volt electric vehicle.
Article continues: http://www.wbcsd.org/plugins/DocSearch/details.asp?type=DocDet&ObjectId=MzcxMDE