EPA Disapproves Certain Aspects of Texas' Clean Air Program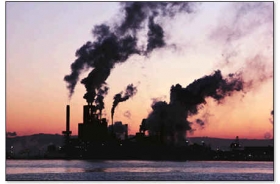 Every state government has their own agency for the protection of the environment which they operate in conjunction with federal laws and statutes. When those state laws do not match up with their federal counterparts, the potential for conflicts increase. A recent example of this is the Texas Commission on Environmental Quality's (TCEQ) clean-air permitting program. The US Environmental Protection Agency (EPA) has declared that certain aspects do not meet federal Clean Air Act requirements.
The aspect with which EPA disapproves is the New Source Review (NSR) Reform component of the NSR program. NSR requires the best available (state-of-the-art) pollution control technology to be installed in new plants or existing plants undergoing major modification. It also looks at how reducing one form of air pollution can possibly lead to increase in another source. Furthermore, NSR provides the public, as well as state and federal governments, the means to know what pollutants are being emitted.
EPA and TCEQ have been working together to better align the state's air permitting program with federal requirements. Currently, TCEQ has authority to issue permits under a prior EPA approval of its 1992 NSR program. However, EPA does not agree with TCEQ's reform plan for their NSR program. One sticking point is the Pollution Control Project Standard Permit revision. It is designed to streamline permitting for changes within a plant, but it lacked sufficient review of impacts on total air pollution levels if the changes were approved.
In addition to TCEQ, EPA has held direct negotiations with numerous business interests which would be affected by any changes in the air permitting program. This includes the Business Coalition for Clean Air Appeal Group, the Texas Association of Business, and the Texas Oil and Gas Association. EPA is hopeful that the recent statement of disapproval will result in changes to Texas' air permitting program to be more in line with federal Clean Air Act regulations.
For more news for the Texas Commission on Environmental Quality: http://www.tceq.state.tx.us/comm_exec/communication/media/