South Africa Enacts CO2 Emissions Cap as UN Climate Negotiators to Converge on Durban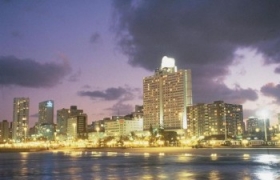 The South African government will enact an emissions cap and new energy industry regulations in an effort to spur development of alternative, clean and renewable energy and mitigate climate change. The new regulations will penalize heavy polluters that don't comply with greenhouse gas emission limits with fines. The new plan was adopted by the South African cabinet of President Jacob Zuma Tuesday in advance of UN Framework Convention on Climate Change (UNFCCC) representatives from around the world converging on the South African coastal city of Durban later this year in what's set to be the most important round of UN efforts to hammer out a successor or alternative to the 1992 Kyoto Protocol since the UNFCCC's 2009 Conference of Parties (COP) gathering in Copenhagen in 2009.
Due to be implemented over the next two years, the South African government intends to set emissions reductions goals and limits with the key companies in the nation's electricity, fuels, mining and transport industries, according to a Reuters news report. The intention is that these will enable South Africa to achieve its stated goal of reducing carbon dioxide (CO2) emissions 34 percent by 2020 and 42 percent by 2025.
South Africa is blessed with a wealth of potential renewable energy resources. It's also a nation of people that generally place a high value on innovation, technical expertise, self-sufficiency and nature. Unfortunately, much of this wealth – in terms of both renewable energy and human resources – is being suppressed.
For further information: http://www.triplepundit.com/2011/10/south-africa-enacts-co2-emissions-cap-climate-negotiators-converge-durban/?utm_source=feedburner&utm_medium=feed&utm_campaign=Feed%3A+TriplePundit+%28Triple+Pundit%29&utm_content=Google+Reader
Photo: Celsias