Turning Trash into Art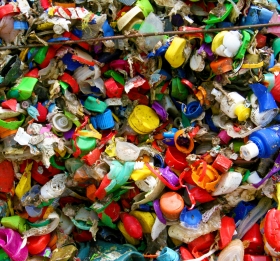 When you think of the words "garbage dump," the first thoughts or images that spring forth from your mind probably aren't related to art. But if you were to visit the Recology collection center in San Francisco, you would be seeing—and thinking about—trash in a whole new way. What you would witness is not only the incredible amount of debris that comes in every day, but also the artists who thrive on it.
Twice a year, Recology SF brings in new artists to its Artist in Residence Program, a one-of-a-kind program that utilizes the center as inspiration, as a studio, and as an art supply closet. Created in 1990, the Artist in Residence Program creates greater awareness of what we throw away and how we can put our unwanted items to better use.
The residency itself is surprisingly competitive. "This residency is pretty much renowned here in the Bay Area as being one of the best," said Tamara Albaitis, one of the program's current resident artists. "The reason being that most of the time when an artist goes on a residency, they plan it out. Here, you show up... and whatever comes into the dump becomes your material. And there is something so inspiring and so spontaneous [about] that."
While in residency, the artists have 24-hour access to comb the collection piles in search of items that will help them achieve their artistic visions. Thanks to Recology, this process is not as dirty and taxing as it sounds. The center provides separate bins for different kinds of waste so artists can rummage through the bins that contain mostly building materials and e-waste.
In 2010, the Environmental Protection Agency (EPA) estimated that Americans generate 4.43 pounds of waste per person per day, which is about 1,617 pounds per year—aka, a LOT of trash. Recology and their resident artists are doing their best to educate people and be part of the solution.
At the end of each residency, Recology hosts a free exhibition of its artists' work. Recology and the artists who take part in their program exemplify the very simple commandment, "Reduce, Reuse, Recycle, and Refuse," and remind us that a little creativity can go a long way.
Continue reading at Sierra Club Green Home.
Plastics mosaic image via Shutterstock.