Colleges Recover 90 Million Pounds of Materials During RecycleMania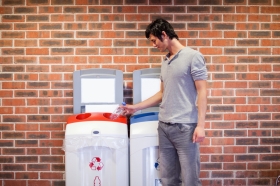 Recycling rivalries added another level of "madness" to March this year, as 523 schools competed in the RecycleMania Tournament, which harnesses the competitive spirit around sports rivalries and uses them to increase campus recycling and waste reduction.
Colleges and universities across the United States and Canada participated in the eight-week competition in which schools are ranked according to how much recycling, trash and food waste they collect. Between the Feb. 3 kickoff and the tournament's final day on March 30, participating schools collectively recovered 90.3 million pounds of recyclables and organic materials, preventing the release of nearly 121,436 metric tons of carbon dioxide equivalent (MTCO2E) into the atmosphere.
During this 13th annual tournament, updated weekly rankings allowed schools to track their performance in eight categories – measuring their recycling rate; overall recycling by weight; lowest amount of total waste; and per capita recovery for paper, cardboard, cans and bottles, and food waste. Colleges also participated in several special categories targeting electronics and film plastics, as well as the "Game Day: Basketball" category, which ranked schools based on recyclables collected at a single home basketball game.
The colleges and universities that took home top prizes in the three primary categories are:
"Grand Champion" (percentage of overall waste that is recycled): University of Missouri-Kansas City - (86.02%)
"Per Capita Classic" (total pounds of recyclables collected per person): California State University-San Marcos - (53.11 lbs.)
"Waste Minimization" (lowest recyclables and trash per person): Valencia Community College- (3.20 lbs.)
"Each year universities eagerly wait for the final results of the competition," said Stacy Wheeler president of RecycleMania, Inc. "Because everyone participating is a competitor, this helps create the spirited atmosphere for students to develop new and better ways to recycle more. In the end, it's a win for the home team and planet earth."
The RecycleMania Tournament is an independent program of RecycleMania, Inc., a nonprofit organization led by recycling managers from participating schools. Program management is provided by Keep America Beautiful with additional program support from the United States EPA's WasteWise program and the College and University Recycling Coalition (CURC). This year, RecycleMania also partnered with the United Negro College Fund Special Programs (UNCFSP) and Campus Conservation National (CCN).
"RecycleMania is a powerful tool to communicate the recycling message to college students in a way that resonates with their values and experience," said Matt McKenna, president and CEO of Keep America Beautiful.
Continue reading at Justmeans.
Man recycling image via Shutterstock.