Inviroment Develops Plastic-Dissolving Spray for Use in Landfills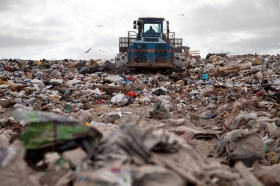 The idea to develop a plastic-eating spray to decrease landfill capacity began as a roundabout convergence of ideas by a couple of Brigham Young University students – neither of whom had focused on waste management before.
While spending time in Sweden on a mission trip, Brock Bennion and Nate Parkin noticed how clean the country was compared to the U.S. and became curious as to how they disposed of their waste. At the same time, they realized how much better care Scandinavians took of their environment.
Bennion had also read an article about how they used bacteria to eat the oil on the Louisiana coast after the BP oil spill. The idea for what would become PlasTek was born once the two returned to the U.S. more waste-conscious and compared notes. A few more friends and relatives got on board and they were off to change the [waste management] world.
Each founder brought a different perspective and expertise to the endeavor. Brock Bennion graduated in spring 2013 with a degree in Physiology and Developmental Biology, while Devan Bennion, Brock's younger brother who is still a BYU student, is studying finance, and Parkin graduated in spring 2013 in Business Management with an emphasis in Marketing.
Read more at Triple Pundit.
Landfill image via Shutterstock.