Clorox Sets High Environmental Goals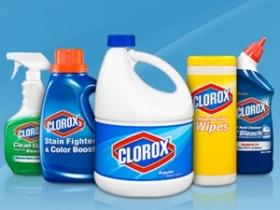 The Clorox Company, a multinational manufacturer of consumer and professional products such as bleach, recently launched its third annual integrated report. The report titled Powerful, Purposeful, Proven, covers the company's financial, environmental, social and governance performance. Although the section on environmental goals is a smaller part of the report, it shows that Clorox is committed to helping the environment. The goals for the year 2020 include:
•A 20 percent reduction in greenhouse gas emissions, energy, solid waste to landfill and water use against a 2011 base
•Getting its top 100 suppliers to reduce their environmental impact
•Using only recycled or certified virgin fiber in packaging
•Having all palm oil either RSPO certified or Green Palm offset
"As we look forward to our next set of milestones, we're leveraging the power of our brands, building on proven results and focused on a purposeful strategy," Clorox Chairman and CEO Don Knauss said in a statement. "All the while, we're remaining grounded in our strong principles of corporate responsibility."
One section in particular stands out, and that is the one about developing a "triple bottom line view." Clorox began to look at integrating corporate responsibility (CR) into its business during the Centennial Strategy period in 2007. In 2010, the company assembled a cross-functional team which developed a CR strategy that set goals for environmental, social and governance performance plus developed a framework to achieve those goals. One important area of focus has been transparency. For example, Clorox became the first major consumer packaged goods company to voluntarily disclose the ingredients in its cleaning and disinfecting products in the U.S. and Canada. Clorox is being recognized for its efforts. Corporate Secretary magazine recognized its 2011 integrated annual report, the first year it released one, for being the "most innovative disclosure policy."
Read more from our affiliate, Triple Pundit.
Clorox image via Greenbiz.