China's Solution for Combatting Air Pollution? Convert Coal to Synthetic Natural Gas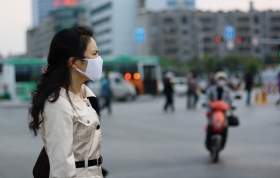 The air pollution in China has become the stuff of legend, or rather of nightmare. The number of lung cancer cases in the capital of Beijing has increased by more than 50 percent in the past decade. Just last week, an eight-year-old girl in the province of Jiangsu was diagnosed with lung cancer. In September, the government announced its Air Pollution Control Action Plan, its latest initiative to address air pollution so bad that the smog over northeast China for the past two weeks has been visible from space.
China's plan only offers a short-term solution for the thick air pollution wreaking havoc on its citizens' health, to say nothing of the country's environment. The government proposes to cut down on its dependence on coal (which currently provides three-quarters of its energy needs) by, first of all, prohibiting the construction of new coal-fired plants around Beijing, Shanghai and Guangzhou; a number of coal-fire plants are being shut down.
But China's replacement for coal will cause numerous environmental hazards. The government plans to building 18 synthetic natural gas plants to achieve its goal of a 65 percent reduction in coal's part in meeting its national energy needs. But using natural gas as an alternative to coal poses many concerns.
China is proposing to convert its supplies of coal into synthetic natural gas (SNG). While SNG can help to cut down on particulate air pollution — reducing particulate matter by 25 percent in the North China Plain is another of the government's goals — a study (pdf) published in Nature Climate Change has shown that the entire process of mining coal and converting it into natural gas can yield 36 percent to 82 percent more total greenhouse gas emissions than burning coal directly.
Proposed SNG Plants Could Create Water Insecurity
SNG plants have been approved for construction in northern and western China, far from the country's major metropolitan cities. For instance, Beijing is to be powered by a natural gas plant built in Inner Mongolia. Bluer skies may be in store for China's capital, but remoter regions could see murkier ones.
SNG plants pose another serious threat to China's climate and to the livelihood of its many inhabitants. Converting coal to SNG necessitates "uniquely high volumes of water: six to 10 liters for every cubic meter of SNG." That is, SNG's water consumption is an average 18 times higher than that of coal.
Continue reading at Care2.
Woman with face mask image via Shutterstock.