Scotland urging citizens to leave the car in the garage!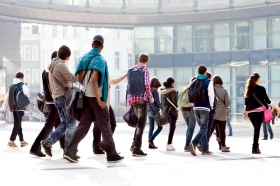 Scots are being encouraged to leave the car for journeys under two miles and enjoy the stress-relieving and health benefits of active travel, such as walking or cycling.
Minister for Environment and Climate Change Paul Wheelhouse has launched the second phase of the national Active Travel campaign, confirming a further £250,000 for local authorities to promote the initiative.
By using active methods of transport, such as walking, instead of the car for short journeys, Scots can help improve their health and well-being, save money, reduce carbon emissions and help make Scotland a cleaner and greener place to live.
In Scotland:
- One in three car journeys are under two miles
- Nearly a quarter of all trips are one mile or less
- Road transport accounts for 70 per cent of all transport emissions
- Short journeys cause more pollution - emissions are almost double for these journeys as vehicles use more fuel when the engine is cold.
The latest campaign will prompt commuters travelling short journeys to walk or cycle to and from work where practical. Walking to and from work can provide valuable thinking time and relieve stresses of the day.
To help Scots track their progress, the Greener Together 'Journeys' app can be downloaded to monitor distance travelled, calories burned, CO2 emissions saved and improvements in mood.
Image of walkers in urban landscape via Shutterstock.
Read more at ENN Affiliate, ClickGreen.