Study shows how air pollution fosters heart disease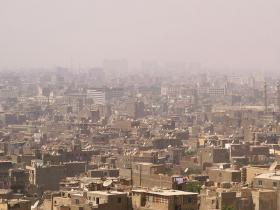 Long-term exposure to air pollution has been linked to an increased risk of heart disease, but the biological process has not been understood. A major, decade-long study of thousands of Americans found that people living in areas with more outdoor pollution —even at lower levels common in the United States — accumulate deposits in the arteries that supply the heart faster than do people living in less polluted areas. The study was published May 24 online in The Lancet.

Previous epidemiological studies have shown associations between particle pollution, refered to as particulate matter, and heart disease. It has been unclear, however, how exposure to particulate matter leads to diseases of the cardiovascular system. Earlier studies had been shorter and had depended for their analysis on existing datasets collected for other purposes.
Now, direct evidence from the Multi-Ethnic Study of Atherosclerosis and Air Pollution (MESA Air), a 10-year epidemiological study of more than 6,000 people from six U.S. states, shows that air pollution — even at levels below regulatory standards — accelerates the progression of atherosclerosis. The condition, also called hardening of the arteries, can cause heart attacks. Researchers repeatedly measured calcium deposits in the heart's arteries by using CT scans. They also assessed each person's exposure to pollution based on home address.

"The study provides important new information on how pollution affects the main biological process that leads to heart disease," said Dr. Joel Kaufman, who directs MESA Air and is the lead author of the published paper. He is a University of Washington professor of environmental and occupational health sciences, and also a UW professor of epidemiology, and of medicine.

"The evidence supports worldwide efforts to reduce exposures to ambient air pollutants," Kaufman said.
Continue reading at the University of Washington Health Sciences.
Air pollution image credit: Sturm58 at English Wikipedia