High blood pressure linked to short-, long-term exposure to some air pollutants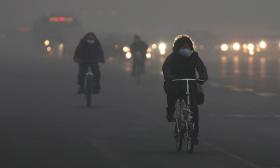 Both short- and long-term exposure to some air pollutants commonly associated with coal burning, vehicle exhaust, airborne dust and dirt are associated with the development of high blood pressure, according to new research in the American Heart Association's journal Hypertension.
"In our analysis of 17 previously-published studies we discovered a significant risk of developing high blood pressure due to exposure to air pollution," said Tao Liu, Ph.D., lead study author and deputy director and epidemiologist of the environmental health division at Guangdong Provincial Institute of Public Health in China. "People should limit their exposure on days with higher air pollution levels, especially for those with high blood pressure, even very short-term exposure can aggravate their conditions."
Researchers performed a meta-analysis of available published studies in the world assessing the health effects of all air pollution on hypertension risk.
Image credit, Blog
Read more at ScienceDaily.