Judge rules: no right to know hazardous pesticide ingredients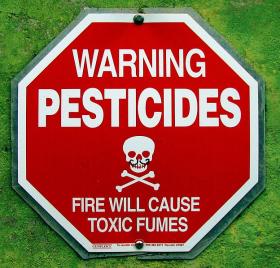 A federal judge has ruled that the US Environmental Protection Agency is under no obligation to force pesticide makers to disclose supposedly 'inert' ingredients in their products - even where those ingredients are seriously hazardous to health or environment.
A federal judge in California has ruled that the US Environmental Protection Agency (EPA) has no duty under federal pesticide law to complete rulemaking on the disclosure of hazardous ingredients in pesticide products.
If the decision stands the EPA will therefore be allowed to keep the public in the dark on the full list of toxic ingredients in pesticides registered by the agency.
The judgment came last week in response to a lawsuit filed by the Center for Environmental Health, Beyond Pesticides, and Physicians for Social Responsibility, arguing that EPA is failing in its legal duty to protect consumers from supposedly 'inert' but often harmful pesticide ingredients.
US District Judge William Orrick stated in his ruling: "The EPA has no mandatory duty to require disclosure of 'inert' ingredients in pesticides, even if those ingredients qualify as hazardous chemicals under separate statutes."
Instead, he ruled, the Federal Insecticide, Fungicide and Rodenticide Act (FIFRA) states that EPA "may require" disclosure of inert ingredients, and so enjoys broad discretion on whether to force manufacturers to divulge the ingredients.
But Yana Garcia, attorney for the plaintiffs, insisted that the EPA's effort to encourage voluntary disclosures has "simply not worked", and that the toxic ingredients clearly meet the standard for 'unreasonable risk' - which the EPA is tasked with combating under FIFRA.
The litigants are now considering whether to appeal the judgment. "It defies logic that chemicals EPA finds to cause cancer and permanent neurological conditions would not meet this standard", Garcia stated. "EPA has been dragging its feet for decades. We don't want to be back here in 10 years. We hope EPA can solve this problem now."
Continue reading at ENN affiliate, The Ecologist.
Pesticide sign image credit: CGP Grey via Wikimedia.