Targeting Cookstove Pollution Using Supercomputers and NASA Satellites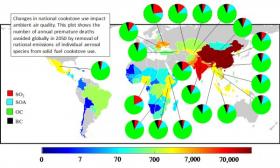 New air quality research is investigating a major, but often overlooked contributor to outdoor pollution and climate: burning of solid fuel for cooking and heating.
Cookstove studies typically evaluate how they contribute to indoor air quality issues in houses where solid fuel is frequently used for cooking and heating. A new paper from the University of Colorado Boulder appearing in the Proceedings of the National Academy of Sciences, has taken a different approach, going outside the home and evaluating how cookstoves impact ambient air pollution and climate.
While a single cookstove only produces a small amount of emissions, millions are used daily around the world, and that pollution adds up. It is estimated that every year between 370,00 – 500,000 people die prematurely from exposure to fine particulate matter associated with residential cookstoves in outdoor air.
Continue reading at University of Colorado At Boulder
Image Credit: University of Colorado At Boulder