China's Severe Winter Haze Tied to Climate Change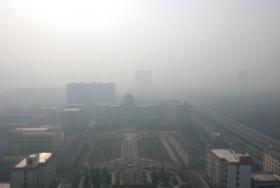 China's severe winter air pollution problems may be worsened by changes in atmospheric circulation prompted by Arctic sea ice loss and increased Eurasian snowfall – both caused by global climate change.
Modeling and data analysis done by researchers at the Georgia Institute of Technology suggest that sea ice and snowfall changes have shifted China's winter monsoon, helping create stagnant atmospheric conditions that trap pollution over the country's major population and industrial centers. Those changes in regional atmospheric conditions are frustrating efforts to address pollution through emission controls.
"Emissions in China have been decreasing over the last four years, but the severe winter haze is not getting better," said Yuhang Wang, a professor in Georgia Tech's School of Earth and Atmospheric Sciences. "Mostly, that's because of a very rapid change in the high polar regions where sea ice is decreasing and snowfall is increasing. This perturbation keeps cold air from getting into the eastern parts of China where it would flush out the air pollution."
Reported March 15 in the journal Science Advances, the research was sponsored by the National Science Foundation and Environmental Protection Agency. The paper presents a clear example of how large-scale perturbations caused by global climate change can have significant regional impacts, and is believed to be the first to link sea ice and snowfall levels to regional air pollution.
Read more at Georgia Institute of Technology
Image: This is a photo taken in the city of Taiyuan, China shows haze on December 3, 2016. (Credit: Yuhang Wang)