Melting snow contains a toxic cocktail of pollutants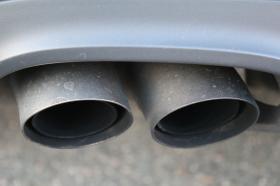 With spring finally here and warmer temperatures just around the corner, snow will slowly melt away, releasing us from the clutches of winter. However, that's not the only thing that the melting snow will release. Researchers from McGill University and École de technologie supérieure in Montreal have found that urban snow accumulates a toxic cocktail from car emissions - pollutants that are in turn unleashed into the environment as the weather warms up.
"We found that snow absorbs certain polycyclic aromatic hydrocarbons which are organic pollutants known to be toxic and carcinogenic," says Yevgen Nazarenko, a postdoctoral researcher working with Parisa A. Ariya, professor at McGill's Department of Atmospheric and Oceanic Sciences and Department of Chemistry, and collaborating with Prof. Patrice Seers' team at École de technologie supérieure.
"Understanding how these pollutants interact with the environment, including snow, is crucial if we are to reduce the hundreds of thousands of premature deaths caused by mild air pollution in North America. Worldwide, air pollution claims as many as 8 million lives," says Prof. Ariya, senior author of the group's new study, published in Environmental Pollution.
Read more at McGill University
Image via Pixabay