Diesel vehicles produce 50 per cent more nitrogen oxide than originally thought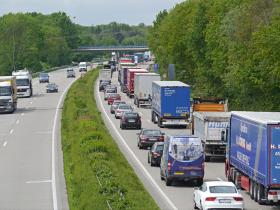 A study, published in Nature, has shown that laboratory tests of nitrogen oxide emissions from diesel vehicles significantly underestimate the real-world emissions by as much as 50 per cent.
The research, led by the International Council on Clean Transportation and Environmental Health Analytics, LLC., in collaboration with scientists at the University of York's Stockholm Environment Institute (SEI); University of Colorado; and the International Institute for Applied Systems Analysis, examined 11 major vehicle markets representing more than 80% of new diesel vehicle sales in 2015.
Of these markets, they found vehicles emitted 13.2 million tons of nitrogen oxide under real-world driving conditions, which is 4.6 million tons more than the 8.6 million tons expected from vehicles' performance under official laboratory tests.
Chris Malley, from the SEI, University of York, said: "This study shows that excess diesel nitrogen oxide emissions effect crop yields and a variety of human health issues. We estimate that implementing Next Generation standards could reduce crop production loss by 1-2% for Chinese wheat, Chinese maize, and Brazilian soy, and result in an additional four million tonnes of crop production globally."
Continue reading at University of York
Image via Pixabay