Are your fireworks causing pollution?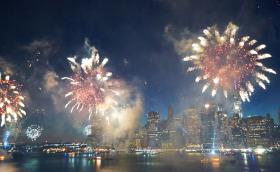 If you're a fan of pyrotechnics shows, just thinking about fireworks probably conjures up a fond memory of oohing and aahing along with a crowd, as colors burst overhead and smoke drifts across the — hey, wait a minute.
Sorry, but I'm here to rain on your fireworks, because those delightful explosions come with a hefty dose of pollution. It doesn't have to be that way, though — in fact, many municipalities are seeking out alternatives that allow residents to enjoy the fun, minus the environmental impact.
Here's the problem: Fireworks are made by combining gunpowder with metal that will react as it heats and ignites — that's what causes the different colors and nifty visual effects. They also historically came packed with sodium perchlorate to act as an oxidizer to fuel that reaction. The explosion itself generates smoke as a byproduct of combustion, and along with it, tiny metallic particles that aren't great for people — or animals — to breathe.
Researchers in Spain found that after major festivals, concentrations of strontium, copper, antimony, sulphur dioxide and lead, among many others, were much higher in urban areas than they should be. The pollution came not just from municipal fireworks displays, but also from members of the public who set them off in their backyards, just as millions of Americans do around the Fourth of July. They noted that poor quality control and questionable sources made some fireworks more hazardous than others.
Continue reading at ENN affiliate, Care2.
Photo credit: Kevin Muncie