University-led study looks to reduce methane gas emissions in cattle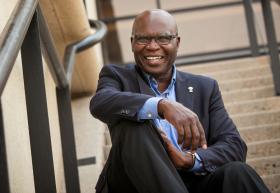 Seeking to mitigate the greenhouse gas contributions of the region's agricultural sector, a University of Lethbridge-led study has been granted $1.1 million by the federal government's Agricultural Greenhouse Gases Program.
"Canadian farmers are great stewards of the land and the environment. These new investments are part of the government's commitment to addressing climate change and ensuring our farmers are world leaders in the use and development of clean and sustainable technology and processes," says Lawrence MacAulay, Minister of Agriculture and Agri-Food.
Dr. Erasmus Okine, University of Lethbridge vice-president (Research), is principal investigator on the study, which will investigate whether the use of biochar in beef cattle diets reduces the amount of methane they produce.
Because a single cow can produce 200 to 500 litres of methane a day, the cattle industry is estimated to be responsible for about 38 per cent of agricultural greenhouse gases. Cattle release methane and carbon dioxide by silently belching about once a minute. If they don't release the gas, they begin to bloat, a serious condition that can lead to death in a short time. Okine and his fellow researchers want to find a way to reduce the amount of methane produced while still maintaining a productive herd.
Continue reading at University of Lethbridge.
Photo via University of Lethbridge.