Cooking up new ways to clean up our planet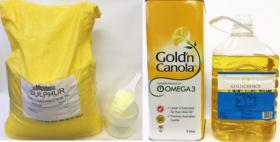 "Our previous research studied a single type of inorganic mercury, so this is a significant advance," says award-winning Flinders University scientist Dr Justin Chalker.
A polymer made from canola oil and sulphur (left) can remove mercury metal from soil. After reacting with mercury metal, the polymer changes colour from brown to black.
"With the Minamata Convention on Mercury coming into force around the world this year, this discovery is an important advance in protecting the environment and human health," says Dr Chalker, Senior Lecturer in Synthetic Chemistry at Flinders University in Adelaide, South Australia.
"We can use this material to protect the environment by capturing toxic mercury pollution – a pernicious problem around the world, causing brain damage and loss of IQ points in unborn children.
"At the same time, every atom of the mercury-binding material can be derived from industrial byproducts, so this is also an exciting advance in recycling and re-purposing waste."
Continue reading at Flinders University
Image courtesy of Flinders Newsdesk