JRC at COP23: A Cleaner, Greener Planet is Both Possible and Affordable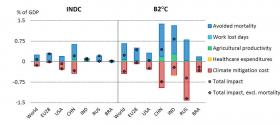 Limiting global warming below the critical 2C level set out in the Paris Agreement is both feasible and consistent with economic growth – and the knock-on improvements to air quality could already cover the costs of mitigation measures and save more than 300,000 lives annually by 2030.
That's one message JRC scientists bring to this month's 23rd Conference of the Parties (COP23) to the United Nations Framework Convention on Climate Change (UNFCCC), where this week they present the 2017 Global Energy and Climate Outlook (GECO) report.
Far from being "a little too clean for optimum health", air pollution is responsible for over 400,000 deaths per year in the EU alone. Whilst the GECO report investigates climate and energy policies to map out how climate targets can be achieved, it also explores the impact that these policies will have on air quality – with encouraging signs for global health and the economy.
Read more at European Commission Joint Research Centre
Image: The GECO report measures the cost of climate mitigation measures against the air quality co-benefits to health and productivity. (Credit: EU, 2017)