27 Ways Heatwaves Can Kill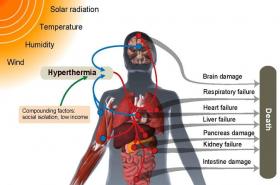 A new systematic synthesis by researchers at the University of Hawai?i at M?noa shows that there are at least 27 different physiological pathways in which a heatwave can kill a human being, and everyone is at risk.
Around the world, numerous cases have revealed the considerable dangers of extreme heatwaves. More than 70,000 people perished to the extreme heat of the 2003 European heatwave, more than 10,000 people to the 2010 Russian heatwave, and more than 2,000 to the 2015 India heatwave. Altogether more than 800 cases of deadly heatwaves have been documented worldwide since 1980.
At times, the impacts of deadly heat are not measured in human lives, but in the numbers of people imprisoned indoors. In the last two years, millions of Americans have been told to stay indoors in cool places to avoid dangerous heat outdoors. Unfortunately, according to recent studies these deadly heatwaves are projected to worsen even with aggressive mitigation of greenhouse gases.
The significance of this deadly heat will depend on the sensitivity of the human body to heat, and a new synthesis paper in the American Heart Association journal Circulation: Cardiovascular Quality and Outcomesshows that we are more sensitive to heat than people may think.
Read more at University of Hawaii at Manoa
Image: Illustration of pathways through which heat can damage vital organs and result in death. (Credit: University of Hawaii at Manoa)