After years of nearly flat growth, global fossil fuel emissions are inching up, according to report by Stanford-led group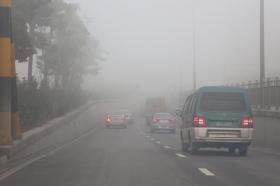 Policymakers at this week's international climate negotiations in Germany meet amid sobering news that gives their work new urgency. After three years of flat growth, global fossil fuel emissions are rising again, according to a series of reports from the Global Carbon Project, a group chaired by Stanford scientist Rob Jackson.
"This year's result is discouraging, but I remain hopeful," said Jackson, the Michelle and Kevin Douglas Provostial Professor in Stanford's School of Earth, Energy & Environmental Sciences. "In the U.S., cities, states and companies have seized leadership on energy efficiency and low-carbon renewables that the federal government has abdicated."
The Global Carbon Project's report appears in the Nov. 13 Environmental Research Letterswith detailed data published simultaneously in an Earth System Science Data Discussions paper led by Corinne Le Quéré of the University of East Anglia, who is also part of the Global Carbon Project. Together, they forecast that global fossil fuel emissions will reach a record 37 billion tons of carbon dioxide in 2017, with total emissions reaching a record 41 billion tons, including deforestation. Atmospheric carbon dioxide concentration reached 403 parts per million in 2016, and is expected to increase by 2.5 parts per million in 2017.
Read more at Stanford University
Image: Traffic passes through polluted air in Ningbo, China. Fossil fuel emissions in China are projected to grow by approximately 3.5 percent in 2017, leading a global increase. (Image credit: Xian Long / Wikimedia Commons)