Spotlight
A Close Look at the Current State of Mattress Recycling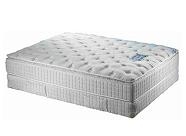 NATIONAL REPORT—Usually when people think of recycling, they think of smiling trash cans eagerly welcoming happy bottles and cans. However, most people don't really think about mattresses. With a number of major landfills starting to run out of space, discarded mattresses have been a thorn in the side of landfill operators. How big of a thorn? A single mattress can take up to 23 cubic feet of space. Over the past few years, the concept of mattress recycling has begun to gain traction. There have been a number of drivers towards mattress recycling, including legislation and the increasing burden that mattresses cause landfill operators.
Mattresses make their way to a landfill primarily through two ways. One way is when the mattress is left on the curb for sanitation workers to pick up. The other way—and possibly the most prevalent—is when retailers collect the old mattresses of their customers and ship them off to landfills. Once the mattress arrives at the landfill, it is crushed into a compact form and stockpiled.
For the landfill operator however, it isn't that simple. Not only do mattresses take up a significant amount of space, they also cause increased wear and tear on landfill machinery. Because of the additional burden, a number of landfill operators have begun to raise their fees. According to Dan Belden of the Western Lake Superior Sanitary District in Duluth, Minn., "Landfill operators find mattresses to be very inconvenient to dispose of. Oftentimes, equipment gets damaged because springs get tangled up or pop out of the mattresses as they're being compacted. The landfills in our area have been very willing for us to take care of their mattresses."
Legislative Pressure Increasing
Rising fees and decreasing space in landfills has ultimately favored alternative methods of disposing mattresses. However, the key to the growth of mattress recycling ultimately lies in legislation. There has been greater pressure from environmental standards to hold manufacturers more responsible for dealing with their goods from initial production to their eventual disposal. According to Abdullah Ertem, founder of Canada-based MattCanada, "The bed manufacturers are very interested in utilizing recycling facilities such as ours to dispose of their old mattresses. I have major manufacturers such as Sealy delivering their old mattresses to us. There are other manufacturers that have contacted me because they are interested in disposing of their old mattresses."
In recent years, mattress recycling has been seen as the best method of disposing of used mattresses. This has been due to the failures of alternative methods in gaining traction among the general public and the mattress industry. In the past, the idea of "refurbishing" old mattresses was experimented with. However, this idea never gained any real traction because many retailers were unwilling to sell them to their customers. While refurbishing mattresses can also be considered recycling, the term "mattress recycling" has been used nowadays for the process of dismantling a mattress completely and selling the parts to other non-mattress related businesses.
Some respectable retailers and charities still sell and donate used mattresses to lower income families who can't afford new ones. Sleep America, a respectable retail chain based in Phoenix, has been very supportive of alternative methods of disposing of mattresses. Debbie Gaby, president and founder of Sleep America, stated that, "For years the mattress industry was against refurbishing because it would reduce new mattresses being sold. I used to be of that opinion. However, the people buying these refurbished mattresses need an alternative to sleeping on the floor."
However, used and refurbished mattresses are facing increasing legislative pressure. According to Ryan Trainer, executive vice president of the International Sleep Products Assn. (ISPA) "As of July 1, 2007, the U.S. Consumer Product Safety Commission set new fire safety standards for mattresses. Most used and refurbished mattresses do not meet these new requirements. Consumers who use these mattresses could potentially expose them and their families to the risk of a deadly fire.
Used and renovated mattresses also can contain a number of hygienic problems: they may be soiled by urine, feces, dust mites and their droppings, and other harmful materials, which can cause respiratory problems. Finally, bedbugs are an increasing problem with used mattresses. A number of providers of used and renovated mattresses do not sterilize their products before selling them to unwitting consumers, and a number will even advertise that the mattress is new—which is deceptive."
Life Cycle Thinking Needed
It is very important for consumers to deal only with reputable providers (such as Sleep America) if there is a need for a refurbished/used mattress. Outside of selling/donating to lower income families, refurbishing mattresses does not tackle the core issue, which is: What can be done to dispose of a mattress when it has reached the end of its life cycle? Donating and selling a used or refurbished mattress may extend its life by another five to 10 years, but inevitably it reaches a point where it simply cannot be used anymore. In fact, according to Terry McDonald of St. Vincent de Paul in Eugene, Ore., "Thrifts and charities have been less willing to handle mattresses because they are usually quite difficult to handle."
Mattress recycling is the most feasible method to address this core issue. By tearing down a mattress to its fundamental parts, the need for storing it in a landfill or in a warehouse is completely eliminated. Mattress recycling benefits not only the environment by eliminating the need for storing them, but also other businesses that can use the salvaged materials.
One man's trash is another man's treasure. When a recycling facility receives the mattress, it is torn up and gutted by laborers. The wood, metal springs and cotton are removed from the mattress, and the foam is torn up. Some recycling facilities are more sophisticated, and utilize shredding machines to shred the foam. The wood is typically sold to wood chippers, which burn the wood for fuel. The cotton and foam are sold to companies that use the materials for insulation and carpet bagging.
Finally, the springs are melted down and sold to steel companies due to their high quality metal. There are quite a number of uses for a mattress, and in the hands of a dedicated recycling facility, up to 90 percent of the mattress can be recycled. By recycling and selling the materials, the recycling facility makes a small profit, landfill operators have more space, and other businesses can acquire materials such as the metal and wood cheaply.
Several States Recycling Mattresses
A number of states, mainly California, Minnesota and Massachusetts, have been at the forefront in encouraging the recycling of mattresses. According to Alexa Kielty of San Francisco's Department of the Environment, "Right now there is a Zero Waste Resolution that plans for 100 percent recycling by 2020. In fact, DR3 Recycling was able to set up their facility here in our area because the state gave them seed money. We also give financial incentives to waste haulers to divert mattresses to recycling facilities."
Like DR3 Recycling (operated by St. Vincent de Paul of Eugene, Ore.), other mattress recycling facilities have also benefited from municipal funding such as seed money for capital equipment and grants for research into better recycling technologies for mattresses. Canada has taken it a step farther by introducing laws that ban landfills from taking in mattresses. Although the United States has been slow to adopt new recycling laws, Canada is proof that the concept works.
So far, there are only three dedicated and operational mattress recycling facilities in the United States, with a fourth one under construction by MattCanada in Frederick, Md., which has been expanding its operation outside of Canada.
As it stands, the main thing mattress recycling needs is time. Organizations such as ISPA, along with a number of municipalities, have provided financial support to mattress recycling facilities for capital equipment and research. With increasing financial support, and environmental legislation, conditions seem ripe for the inevitable growth of mattress recycling. As more municipalities observe the continued success and benefit of mattress recycling facilities, mattress recycling will not be a dream, but a reality.
Mattress Recyclers in U.S., Canada
Conigliaro Industries, Framingham, Mass., (508) 872-9668.
DR3 Mattress Recycling Facility, San Leandro, Calif. (510) 351-0520.
MattCanada, Montréal, Québec (main location), (514) 648-7575.
Frederick, Md. (new U.S. location—under construction).
Goodwill Industries, Duluth, Minn. (218) 722-6351.
Ali Agha can be reached by e-mail at AliAgha3@hotmail.com.