Wildlife trade bans may be worsening trafficking of some species, argues paper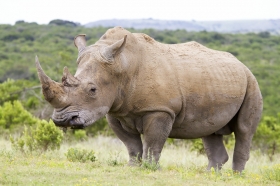 While founded with good intentions, wildlife trade bans may in some cases be worsening the plight of some endangered species, argues a commentary published in the journal Tropical Conservation Science.
Looking at three animals listed under the CITES (Convention on International Trade in Endangered Species of Wild Fauna and Flora) — tigers, elephants and rhinos — Kirsten Conrad of AsiaCat argues that a moratorium on legal trade has exacerbated illegal trafficking by boosting prices and moving all commerce to the black market. She says the situation is worsened by poor law enforcement, ambiguous property rights, and demand rooted in "strong traditional affiliation".
Conrad argues that conservationists should carefully evaluate a radical option: legalizing commercial trade in some species.
"Given the abject failure of the trade ban to stem the decline of wild populations in the case of tigers, rhinos and elephants, legal trade needs to be given due consideration," Conrad writes. "Put another way, the solution to controlling the illegal market may be to outcompete it."
Conrad admits her proposal faces strong opposition from the conservation community.
"The specter of slaughtering tigers, shaving off rhino horn and selling off elephants is sure to raise a heated debate. Yet data on the continuing decline of wild populations and persistence of poaching should not be denied."
Article continues at ENN affiliate, Mongabay
Rhinoceros image via Shutterstock