EPA Reviews PM2.5 Standards, Expects Counties to Comply by 2020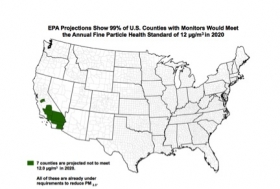 The U.S. Environmental Protection Agency (EPA) finalized an update to its national air quality standards for PM2.5 today, setting the annual health standard at 12 micrograms per cubic meter.
PM2.5 is the term used for particulate matter with a diameter of 2.5 micrometers (which is approximately 1/30th of the width of a human hair). It is a harmful fine particle pollutant that comes from wood burning, soot, power plants, and motor vehicles.
By 2020, ninety-nine percent of U.S. counties are projected to meet the revised health standard without any additional actions. The other 1% is comprised mostly of California counties that will need to consider local actions to reduce fine particle pollution in order to meet the new standard as required by the Clean Air Act.
Today's announcement has no effect on the existing daily standard for PM2.5 or PM10 (particles with a 10 micrometer diameter that can come from dust), both of which remain unchanged.
"These standards are fulfilling the promise of the Clean Air Act. We will save lives and reduce the burden of illness in our communities, and families across the country will benefit from the simple fact of being able to breathe cleaner air," said EPA Administrator Lisa P. Jackson.
Because of their size, fine particle pollution can penetrate deep into the lungs and has been linked to a wide range of serious health effects, including premature death, heart attacks, and strokes, as well as acute bronchitis and aggravated asthma among children.
The standard, which was proposed in June is based on an extensive scientific evidence that includes thousands of studies – including many that show negative health impacts at lower levels than previously understood. It also follows extensive consultation with stakeholders, including the public who contributed more than 230,000 comments,, health organizations, and industry.
By 2030, it is expected that all standards that cut PM2.5 from diesel vehicles and equipment alone will prevent up to 40,000 premature deaths, 32,000 hospital admissions and 4.7 million days of work lost due to illness. Because reductions in fine particle pollution have direct health benefits including decreased mortality rates, fewer incidents of heart attacks, strokes, and childhood asthma, the PM2.5 standards announced today have major economic benefits with comparatively low costs.
EPA estimates health benefits of the revised standard to range from $4 billion to over $9 billion per year, with estimated costs of implementation ranging from $53 million to $350 million.
Read more at the EPA Newsroom.
EPA Projections Map image credit PM NAAQS RIA.